Back To Our Services
Give your home a makeover without spending a lot. Whatever style you choose, garage doors can help improve your home's curb appeal and even increase its value. "Garage Door Repair Murphy" carries the perfect door that fits your home and budget. Whether you would like to replace an existing door or you need a new one for your new home, we are here to provide professional and prompt services. Garage door replacement is what we recommend to customers who own an old and faulty door that requires frequent repairs. We also provide replacements for openers, windows, panels and other parts of your door.
We Replace Doors and All Its Parts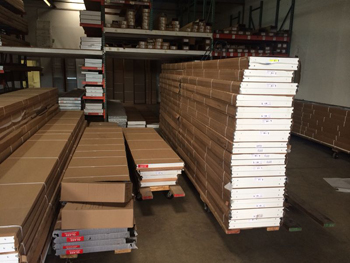 If your door has glass windows, we offer garage door windows replacement regardless if you are using steel or wooden doors. This takes simple steps, the glass pane simply has to be inserted in the panel and sealed with caulk around the edges. Our trained technicians can do this in no longer than an hour. If your door opener is the one that gives you problem, we provide garage door opener replacement. We can work with openers of all makes and models and ensure that you have a safe and smooth running door in no time. Worried about consuming energy? Ask us about Insulated Clopay Garage Doors.
In case sections or panels of your door are damaged and you feel it affects the door's balance and aesthetics, we simply replace panels and not the entire door. We recommend garage door panel replacement if the door is not yet too old to be replaced and because of budget constraints. We have the technology and skills to perform this kind of job without any hassle. Our team specializes in replacing major parts of an overhead door such as the springs, which serve a vital role in the system. Handling these components of your door requires technical knowledge and experience, because your safety can be compromised. With us, you can benefit from a professional level of service that is always worth the investment.
As a business that has been extensively in the garage door repair industry for years, we know how important a garage door is for our customers. Furthermore, we clearly understand the essential role our company implements in keeping this part of your home safe, secure, and convenient to use. Thus, we never settle for anything less than first rate care in everything we do. Replacing parts always mean using the best quality products done with utmost professionalism.
Back To Our Services